User guide
Learn how to build, configure and publish forms and get help when you need it.
Known issues and workarounds
Get help or report a bug
Give feedback
Known issues and workarounds
MoJ Forms is a new platform with a range of features that we are working to expand. In the short term, you might encounter some limitations. These include:
password-protected forms can't be opened in Edge on DOM1 machines - use a different browser or remove the password protection
it's not currently possible to rename a page
it's not currently possible to delete or unpublish a form (removing it from live)
tables created using markdown are not displayed in GOV.UK style
Contact us for help if you need to do any of these things.
Get help or report a bug
If you need help doing something or think you have found a bug (something doesn't work as you expected), Contact us by email or on Slack.
When reporting a bug, make sure to include:
what you expected to happen
what actually happened
what steps to take to reproduce the behaviour
the browser version and operating system you are using
screenshots of any relevant pages and messages
Give feedback
You can send feedback at any time using the red feedback button on the right hand side of the screen, as shown here: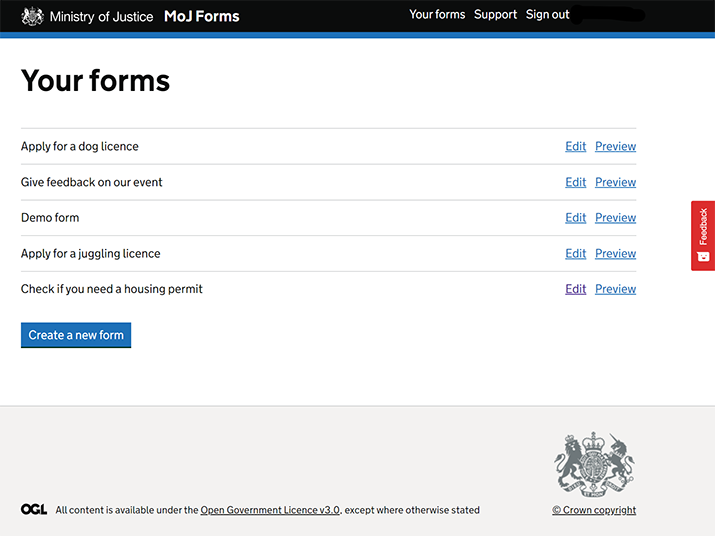 This appears on every page, so you can provide feedback on whatever you are doing.
Certain actions or URLs may trigger specific questions from us. You'll see these as on-page surveys.